The world's first handheld computerized makeup applicator designed for users with limited hand and arm mobility to make beauty accessible for all.
The world's first handheld computerized makeup applicator designed for users with limited hand and arm mobility to make beauty accessible for all has been released by Lancome.
Since 2009, Lancôme has been empowering women with the most personalized solution powered by next-generation beauty tech. As part of its mission to use tech for good and make beauty accessible for all, Lancôme continues to set the pace of innovation with HAPTA: a new assistive prototype to enable makeup to become a self-fulfilling experience for everyone.
"For years, Lancôme has sought to provide every woman with beauty solutions adapted to their needs. Beauty tech has enabled us to fulfill this mission in an even more powerful way, revolutionizing the way we develop beauty products and services and enabling greater personalization" said Françoise Lehmann, Lancôme Global Brand President. "With HAPTA we are going one step further by making beauty more accessible to use, because everyone should have equal access to it."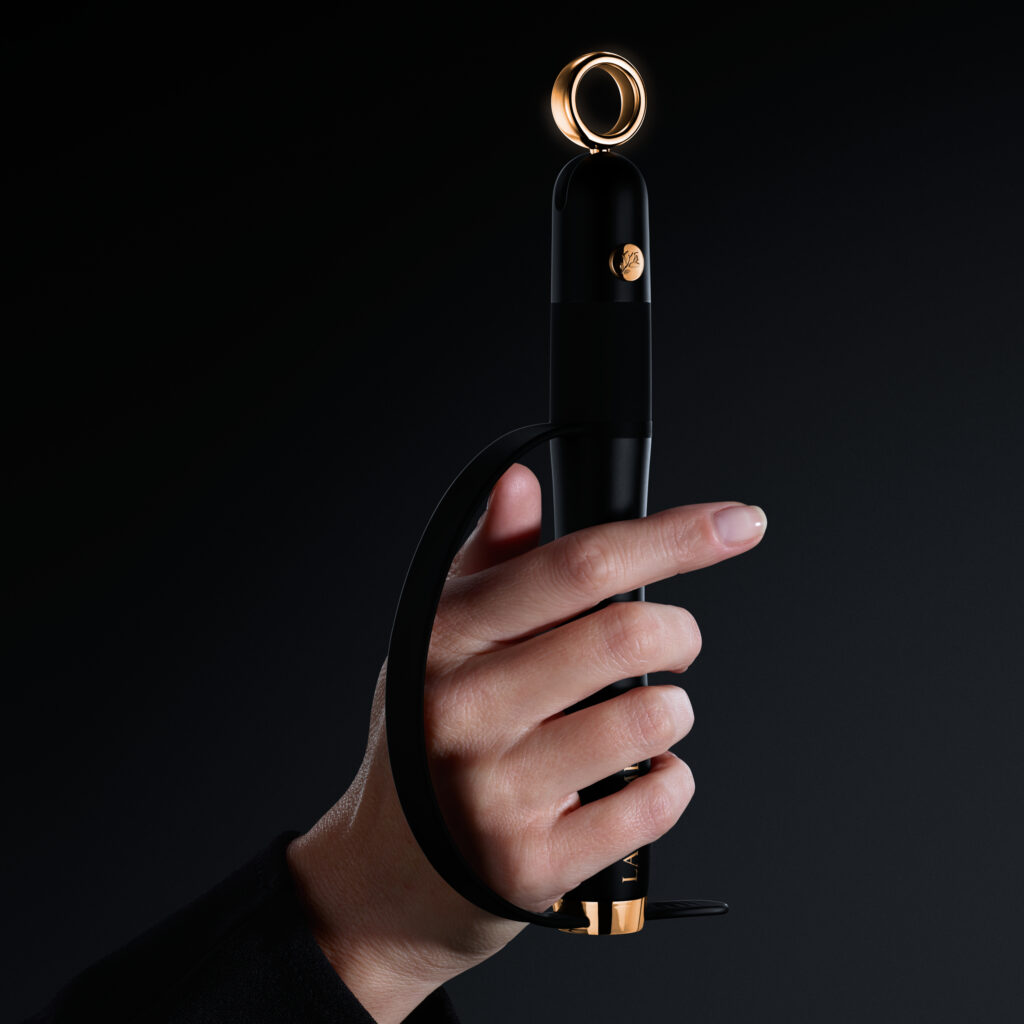 An estimated 50 million people globally live with limited fine motor skills. This makes some daily gestures, like applying makeup, challenging. Under development by L'Oréal scientists and engineers, HAPTA is a handheld ultra-precise smart make-up applicator for users with limited hand and arm mobility, offering them the ability to steadily apply lipstick at home. HAPTA will incorporate technology originally created by Verily to stabilize and level utensils to give people with limited hand and arm mobility the ability to eat with confidence and independence.
HAPTA – from the new latin haptic meaning "science of touch" – is an unprecedented device designed to empower those with hand and arm-motion impairments so that makeup application becomes intuitive and enjoyable beyond disability.
"With Lancôme Beauty Tech and advanced technological devices we provide personalized diagnosis and push the boundaries of product performance. Today, we want to go further by offering a holistic approach to beauty. HAPTA's revolutionary technology has the power to help many people to use and apply beauty products to make them feel confident and self-fulfilled. This innovation is a first step for Lancôme towards beauty for all." – Paul Tartrat, Lancôme Innovation & Beauty Tech Director
Discover HAPTA, your ultimate ally that levels your motions.
Accessibility starts here.
OUR 1ST AI-POWERED ASSISTIVE MAKEUP DEVICE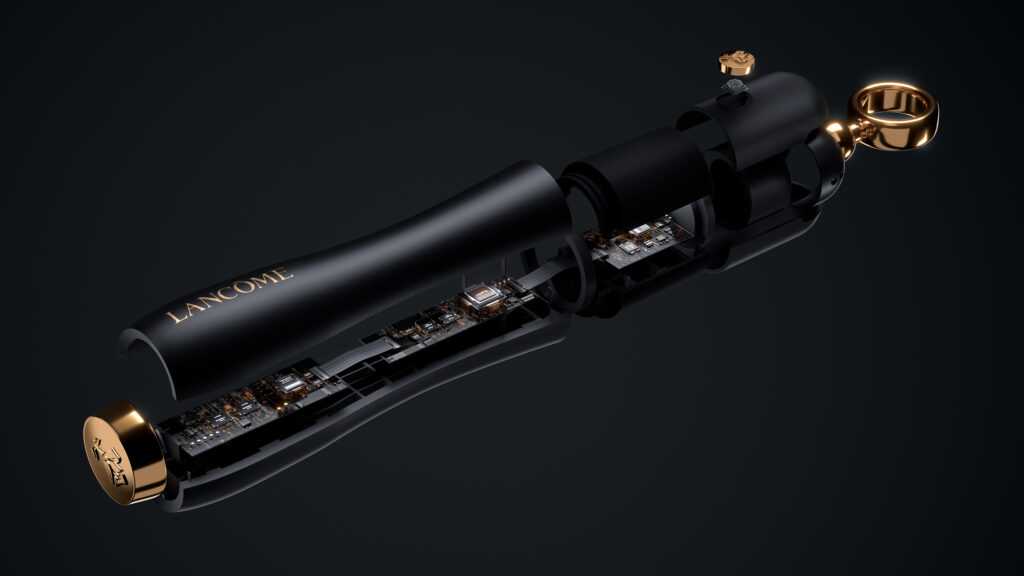 A CONCENTRATE OF TECH IN A SMART DEVICE
As Lancôme's first motion-stabilizing makeup device, HAPTA works with your every move, to help overcome hand-motion challenges, so that applying lipstick or mascara becomes simple. With its adaptive strap and innovative "self-levelling" technology, it allows for more precise application and better sensoriality.
Easy by duty: Featuring self-levelling technology embedded with real-time sensors for a full range of motion and steady application. As a result, the device level as your arm twists and bends, reacting intuitively to your every movement. HAPTA combines motors and gears to provide 360 degrees of rotation and up to 70 degrees of flexion, enabling hand and wrist motricity to be compensated without effort and distinguishing unwanted hand tremors from intended movements of the hand.
Tech by essence: A self-levelling hinge system uses electronic motion-stabilizing technology to constantly adjust the device's position in real time, every second. 2 internal motors and 9-axis accelerometers allow for self-stabilizing motion control based on user's hand orientation while keeping the device stable.
Inclusive by design: The easy-grip device has been specifically designed for those with hand-motion-related conditions, to maximize comfort during use. With its ergonomic, lightweight (115g) and easy to handle design, it is now easier to hold the device and place the lipstick correctly, in order to enjoy a precise application.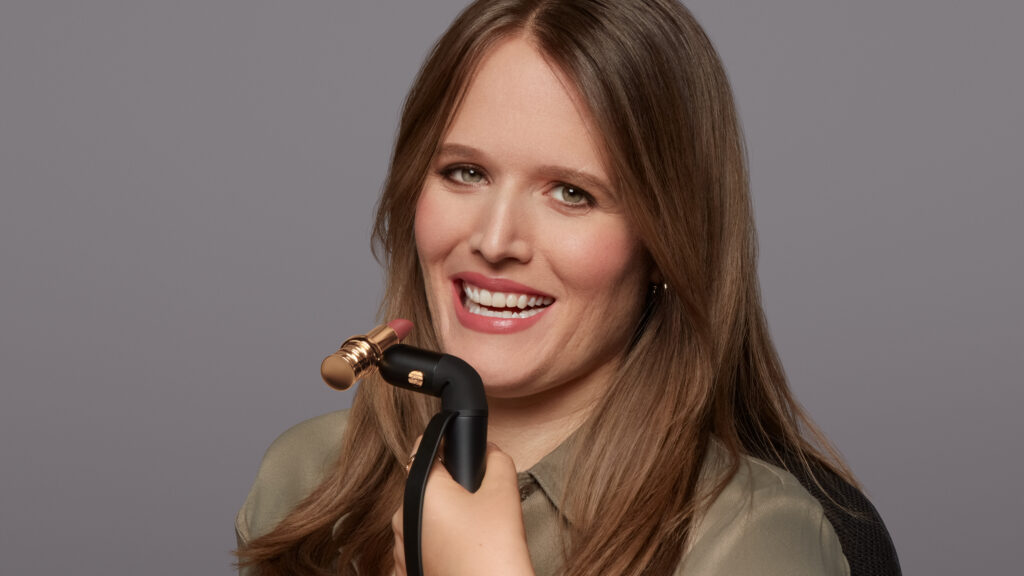 Unveiled for the first time this week at the Consumer Electronics Show 2023 in Las Vegas, Nevada for the application of lipstick, HAPTA will later be enhanced with new robotic features to also works for mascara application, two of the most common forms of self-expression through beauty. It will then be further extended to other beauty products, to move us closer to our mission to make beauty more accessible and enjoyable for all.
THE SCIENCE OF TOUCH – MAKING MAKEUP ACCESSIBLE FOR ALL
Bringing the science of touch to women everywhere, HAPTA is designed for those with hand-motion disorders, arthritis, Huntington's Disease, and following stroke-related motion challenges.
The motion-stabilizing device harnesses the power of technology to assist those who have difficulty raising their arms due to limited mobility or back issues, and people with limited grip strength who struggle with precise application. It also helps anyone with limited wrist mobility who may find it difficult to get a comfortable angle when applying lipstick or mascara, as well as those experiencing tremors and a lack of sensation in the hands.
As a Beauty Tech premiere, HAPTA makes the expression of beauty more accessible, more achievable, and easier than ever before.
HAPTA.
Tech For Good, Beauty for all.