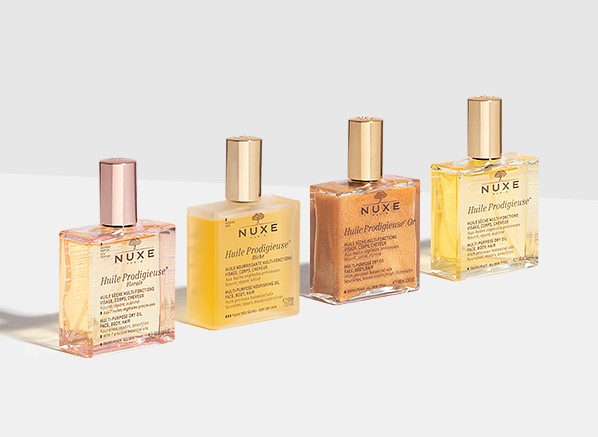 Why do people love Nuxe oil so much? It's simple; Huile Prodigieuse has gained its cult-favourite status because it's one of the most multi-purpose moisturisers you'll ever use.
I love everything about it!
What is Nuxe dry oil?
Nuxe Huile Prodigieuse multi-purpose oil is a face, body and hair oil that repairs, protects and hydrates, but without a greasy or sticky feel. With an at least 95.5% natural origin formula and ingredient line-up of vitamin E extracts and fatty acids, this oil is one big antioxidant. It's one of the most luxurious ways to fight against free radicals like pollution and cigarette smoke. Not to mention, re-boot, and revive your skin after UV exposure.
Free from preservatives, mineral oils and silicones, Huile Prodigieuse nourishes inside and out, giving your face, hair and body the supermodel glow you've always dreamed of. Intrigued?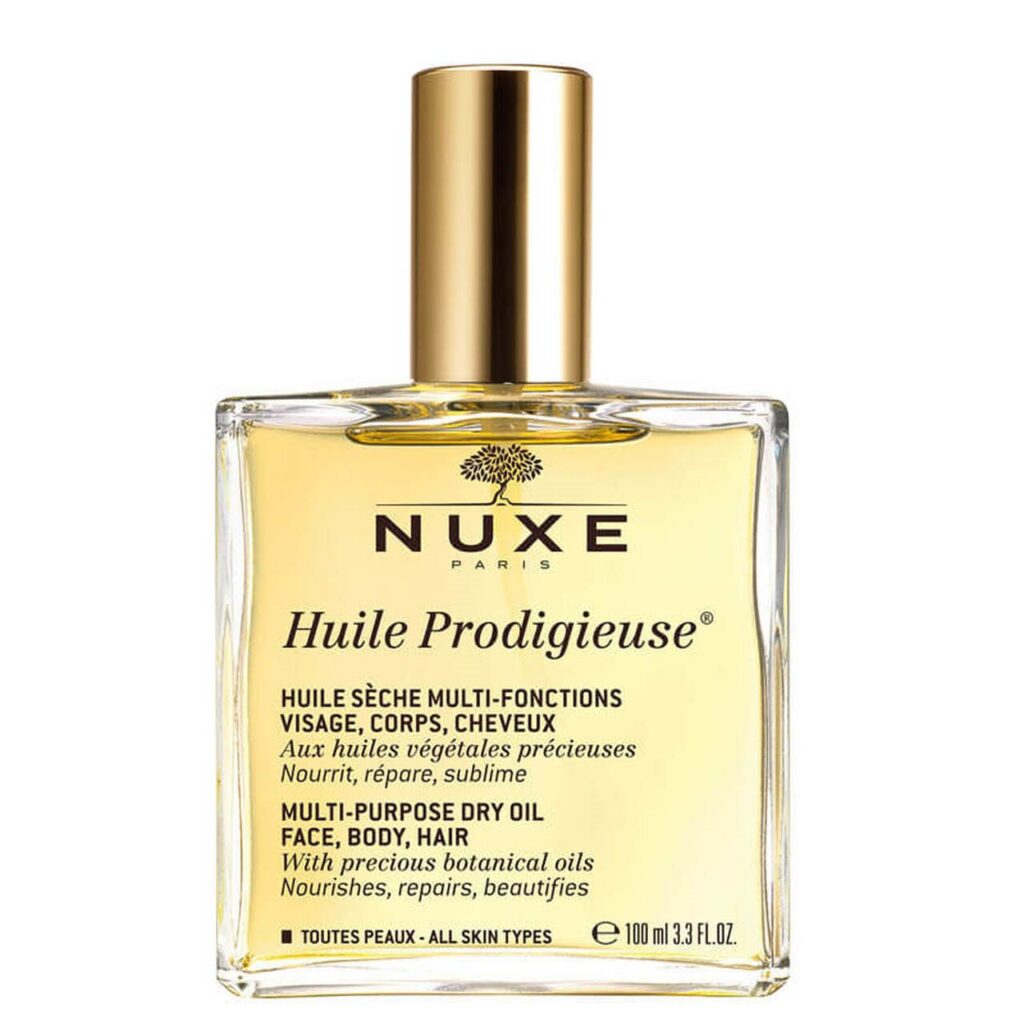 This NUXE oil is made from 7 natural oils of the highest quality, including a precious new botanical oil – Tsubaki Oil from the Camellia plant, a Japanese beauty secret. Tsubaki Oil is rich in Omega 9 and Phytosterols, which has anti-ageing properties and nourishes and heals the skin. Argan Oil is renowned for its restorative effects, while Hazelnut Oil and Borage Seed Oil soothe and smooth the skin. It also has 2 forms of Vitamin E, an anti-oxidant to help combat damaging free radicals and provide anti-pollution protection. As well as moisturising, softening and smoothing skin on face and body, this dry oil even helps to reduce the colour of stretch marks. It also softens and repairs hair, giving it a beautiful healthy shine. Suitable for all skin and hair types. Most importantly it is Paraben-free, Mineral Oil-free, Silicone-free.
The Original Dry Oil
What does the Nuxe dry oil smell like?
Huile Prodigieuse smells like summer. Notes of white flowers and vanilla give this oil a creamy floral aroma that feels warm and cosy.
How to use Nuxe dry oil?
For face: There are many ways to use the Huile Prodigieuse oil on the face. The most common way is to apply Huile Prodigieuse in place of your daily moisturiser. It's the best beard oil! Other uses include mixing it with your foundation to create a dewy finish, or if you have oily skin, use this oil overnight to help rebalance sebum production.
For body: To get the most out of your Huile Prodigieuse Oil, apply all over damp skin. Although it's a dry oil, wait a minute or two before getting dressed.
For hair: Huile Prodigieuse is incredible at repairing split ends, breakage and making your hair smell incredible. To use this oil to combat frizz, apply a small amount into your hands and work through your hair from the bottom upwards. You can also use this oil as a hot oil treatment too. Start by placing the glass bottle in warm water, wash your hair, then when damp, comb through the oil from lengths to ends and place your hair in a warm towel twist for 10 minutes and rinse.
The Shimmering Dry Oil
Nuxe Huile Prodigieuse Or Multi-Purpose Golden Dry Oil
Shimmer body oils are having a moment, but, Nuxe was way ahead of the game with Huile Prodigieuse Or. This oil has a golden tint and a grown-up glitter finish that strikes the perfect balance between statement and chic; it's an essential 'occasion-wear' face and body oil – I never go without it when going bare-legged.
Call this a liquid re-toucher, OR's subtle tint lightly airbrushes the appearance of your body and limbs with mini shimmering mineral particles, but fear not, the finish is subtle; the more you layer, the more of a statement you can create.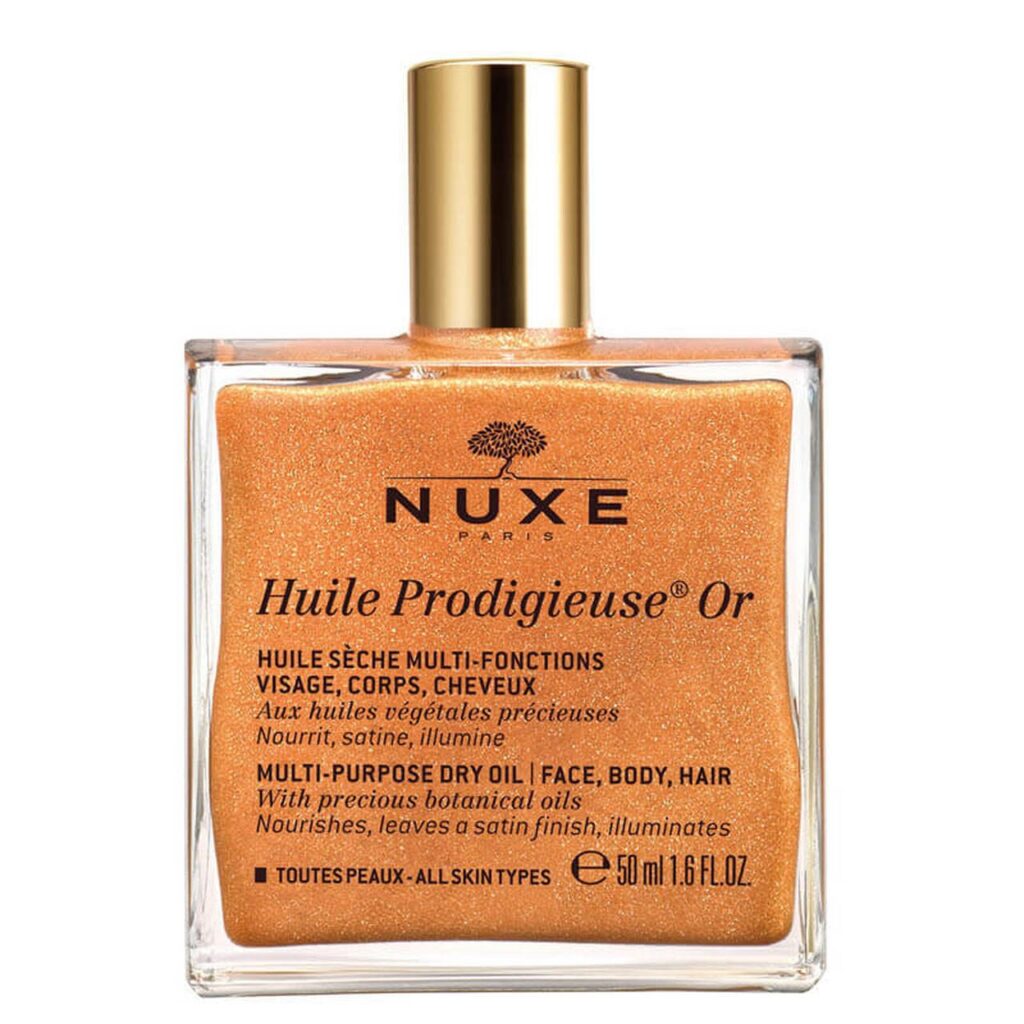 What does the Nuxe shimmer dry oil smell like?
Huile Prodigieuse Or smells the same as the original dry oil. The only difference with this formula is its subtle shimmer and golden tint.
How to use Nuxe shimmer dry oil?
For face: Or is very versatile. Create a glowy day cream by mixing this in with your moisturiser, or squirt a few drops into your foundation to make more of a dewy finish – this works particularly well during summer. I also like dabbing any excess where I would apply my highlighter.
For body: The application method for OR is very similar to that of the original. Focus on using this oil on areas that you want to enhance, such as the centre of your legs, decolletage and arms. Make sure you wait a while before getting dressed to avoid its glittery contents transferring onto clothes.
For hair: This shimmering oil adds a mirror-like shine to hair while repairing any damaged areas over time. One for a night out rather than a pampering mask – brunettes will love it!
The Floral Dry Oil

Nuxe Huile Prodigieuse Florale Multi-Purpose Dry Oil
The newest member of the pack is Huile Prodigieuse Florale, and it's completely different to everything else in the Huxe Prodigieuse line-up. It comes in a pink botttle, but its musky-floral scent is the most significant change to take note of. Rest assured, it's made from 96.9% natural origin ingredients, and the moisturising formula you know and love still feels same. The floral dry oil has a citruses smell from grapefruit as you first spray Florale, but as the oil blends into the skin, creamy florals start to prevail. Finally drying down with warm wafts of smooth white musk.